Twisted Brass is a Christchurch based quintet formed in August 2007. Our standard instrumentation is made up of two cornets, tenor horn, trombone and tuba. The wide range of music available for the quintet format, combined with the experience and versatility of the players, leads to a group that is extremely flexible. Since formation, Twisted Brass has performed at concerts, weddings, pubs and even as an Italian street band in a production of Romeo and Juliet. Whatever the occasion, the focus is always on enjoyment, quality of music and a professional approach.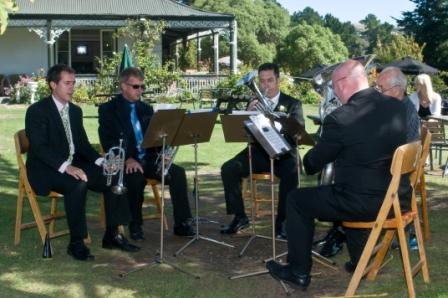 Weddings and Functions
A format we have found to work well for weddings is to provide some quiet music prior to the ceremony, adding to the air of excitement and anticipation. The bride's arrival is marked by a stately tune. A beautiful reflective piece is played during the signing of the register, then a joyous tune for the newly married couple to walk out to. Another bracket of music adds a touch of class to the occasion whilst the photos are being taken. Additions could include accompaniment of hymns / songs or a fanfare to announce the arrival of the couple at the meal.
Do you know of someone with a special anniversary coming up who loves brass music? Maybe you are organising a corporate function where you would like to make a special impression on your guests. Please contact us to see if Twisted Brass can help to make your function that little bit more special.
We are happy to work with clients to create a package that best suits them. Please contact us to discuss you needs.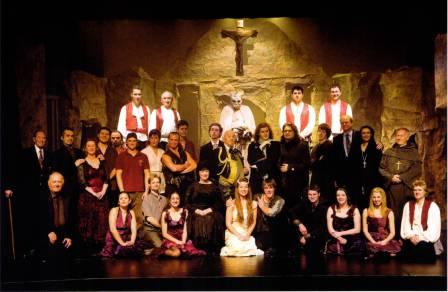 Other Possibilities
With a brass band background, our players are used to performing in a vast range of settings. Jobs range from formal concerts in large halls around the world, to making recordings for TV/Radio/CD, through to backing a circus! Twisted Brass had a lot of fun early on working with the Repertory Theatre in a production of Romeo and Juliet where we played as an Italian Street band (we are the ones with the red waistcoats). Whatever the job, we tackle it with the same professionalism ensuring we are well prepared and on time to help make the organiser's job as easy as possible.